Featured Scholarship - USC Marshall School of Business

The University of Southern California's Marshall School of Business will award scholarships of up to US $50,000 to up to three highly qualified RPCVs - who are also NPCA members - for its prestigious one-year IBEAR MBA program in Los Angeles.  This scholarship opportunity also includes a housing subsidy of $12.000 to $18,000 for accepted students who live in the IBEAR Residential Complex. 
The IBEAR MBA Program is a top-ranked, full-time, one-year, accelerated program for mid-career professionals who are preparing for leadership roles in companies and organizations with a global footprint. Limited to a select group of 56 participants, a typical IBEAR class features participants from 11-15 countries, and a diverse range of industries and professions. With an average age of 34 and a minimum of 6 years of work experience (average is 10 years), NPCA participants would join other mid-career professionals from Asia, Africa, Europe, Latin America, and North America to earn the prestigious USC Marshall MBA degree after 12 months of intensive study. A 10-day international business trip is a required component of the Program—paid for by IBEAR. The 2014 trip was to IBEAR's Pacific Rim Business Forum in Yangon. The capstone course of the program is a client-commissioned management-consulting project. Over a 4-month period, teams of 5-6 participants work with the client to solve one of its important business challenges.
Get more information on the IBEAR MBA Program. View the "Why An IBEAR MBA" film in order to get a broad overview of the program, as well as alumni insights. For additional information, contact Pankaj Bhushan, Associate Director, Outreach.
UVM School of Business Sustainable Entrepreneurship MBA (SEMBA) Scholarships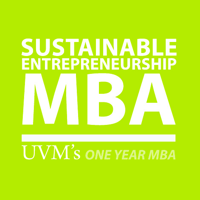 The Sustainable Entrepreneurship MBA (SEMBA) at the University of Vermont is a one year, full-time, program whose mission is to develop the next generation of leaders who will build, disrupt, innovate, and reinvent sustainable enterprises in a world that demands it. SEMBA is one of a handful of MBA programs in the world that is AACSB-accredited and completely-focused on sustainability. The program delivers the full MBA-toolkit through a combination of nine-month in-class experiences delivered by a multidisciplinary, world-class faculty, entrepreneurs and executives in residence, one-on-one mentorships, and a three-month practicum addressing a sustainable challenge within a firm.
NPCA members can request information by contacting Erin Montgomery  at 802-656-4119 or erin.montgomery@uvm.edu. Read more here. 
Online Graduate Program Scholarships

As an NPCA member, you may be eligible for up a scholarship when you decide to continue your education and enroll in a prestigious online graduate program. Watch this page for opportunities to be posted as they become available.
International Relations Online is an online Master's degree in International Relations from American University's top-ten ranked School of International Service. Students in the program learn skills and gain experience that prepares them to advance in a wide range of international relations careers, including international development. As an NPCA member, you may be eligible to receive up to $17,500 when enrolled in the program.  Apply Today!
SIT Graduate Institute Scholarships

Academic scholarships allow NPCA members to pursue master's degrees in international programs through SIT Graduate Institute. Members of the NPCA who have one year or more of significant Peace Corps experience are eligible to apply for this $10,000 scholarship. Several awards are made each year.
Read about the 2015-2016 winners here.
NPCA members can request information regarding this exclusive scholarship opportunity at 800-336-1616 or 802-258-3510, or on the SIT Graduate Institute web site.
Northeastern University - Full Circle Scholarship
The Full Circle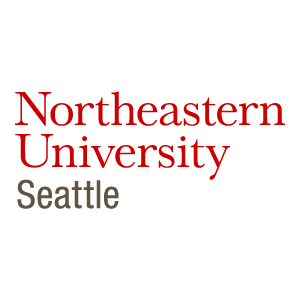 Scholarship offers a 25% tuition discount to graduate applicants who embody Northeastern University's values of experiential and global learning.  New, incoming students who have completed a term of service with the Peace Corps and are members of NPCA could be eligible. Programs are available online and on-ground at Northeastern's campus locations in Boston, Seattle, Silicon Valley, Charlotte, and Toronto.
Your mission of improving the lives of people in communities around the world as well as promoting a better understanding between America and the rest of the world does not have to stop now that you have completed your Peace Corps term of service.
Look at our Master of Science in Global Studies and International Relations if you want to continue pursuing globally focused work. There are many concentrations available allowing you to tailor the program to your specific interests.
Our programs in Nonprofit Management, Education, Human Services, and Public Administration will allow you to further develop specific skills and interests acquired during Peace Corps.
Those working in healthcare during their service might look at our Master of Public Health in Urban Health, our degree in Leadership with a concentration in Healthcare Management, or our Health Informatics program in you are wanting to take a data-centered approach to healthcare.
If your time in Peace Corps inspired you to continue the pursuit of new skills, then take a look at our ALIGN Program, which allows you to transition into a new field such as computer science no matter your background.
Please visit our website for more details and a complete list of eligible programs.
Peace Corps Prep (for undergrads)
Peace Corps Prep is a certificate program for undergraduates that centers on one empowering question: How can you prepare yourself to be the best Peace Corps Volunteer you can be? 
Peace Corps Prep programs create frameworks for you to build these four competencies, integrating coursework with hands-on experience and professional development. Upon completion of the program, you will receive a certificate from the Peace Corps—and a competitive edge when applying for Peace Corps service.
Peace Corps Prep programs correspond with the Peace Corps' new application process, which lets you choose where you want to go and what you want to do. You can first explore and discover the Peace Corps Prep opportunities that excite you, and what skills you will need to be a competitive applicant for those positions. If you are enrolled in a Peace Corps Prep program, you can then shape your curriculum around those requirements!

Top Peace Corps Volunteer-Producing Schools (Undergrad and Grad)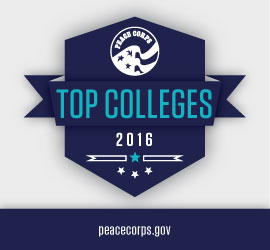 Washington State once again makes a strong showing on the Peace Corps' list of top Volunteer-producing colleges and universities with three Evergreen State schools holding the top spot in their enrollment category. The University of Washington ranks No. 1 among large Volunteer-producing colleges and universities and also appears on the agency's list of top Volunteer-producing graduate schools. Gonzaga University and the University of Puget Sound share the title of No. 1 among small schools, rounding out three of the seven total Washington state schools on the 2016 list.
The George Washington University in Washington, D.C., claims the top spot among medium-sized colleges and universities, followed closely by local rival American University. Georgetown University and Howard University—which remains the first and only historically black university to appear on the list—join George Washington and American as D.C.-based schools to rank in the medium-sized enrollment category, taking the No. 7 and No. 14 spots, respectively.
Among graduate schools, Tulane University holds the No. 1 spot for the second consecutive year. The University of California, Berkeley remains the all-time highest producer of Peace Corps Volunteers in the country, with more than 3,600 alumni to have served since the Peace Corps was founded in 1961.